At Christmas 2018, when I became frustrated at the lack of LGBTQ+ representation while shopping for greeting cards, I decided to make a small site to list queer cards that I came across for future reference at cardsbutqueer.ie. I hoped that it would be a useful resource for more than just myself.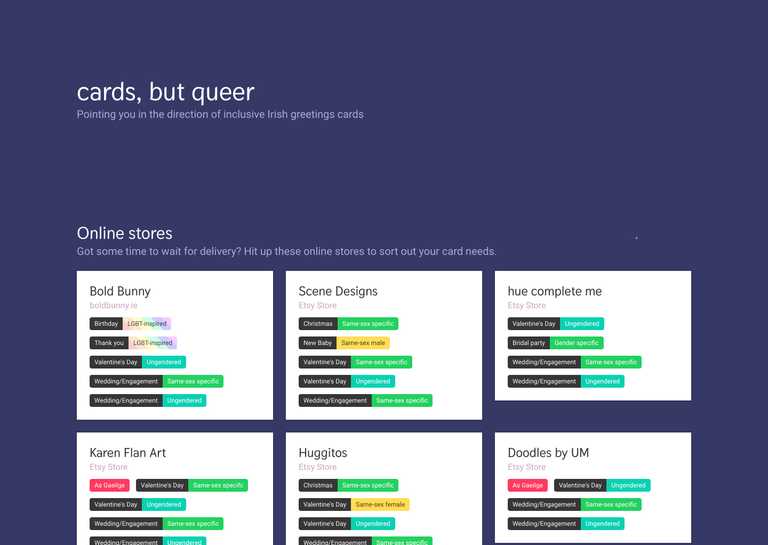 And in February 2019, when the site was online and I wrote a Twitter thread where I outlined some of the reasons for my frustration:
However, it's clear that other minorities are similarly underrepresented on greeting cards and I want to highlight great cards, feature different representation, and discuss specific elements of cards more. So I'm resetting here on inclusive.cards with regular posts about inclusive greeting cards in all forms. You can follow updates on Twitter, at @inclusive_cards, and on Instagram, at @inclusive.cards.
It shouldn't be difficult to find appropriate greeting cards whether you're a person of colour, queer, or disabled. To be undervalued and discriminated against in society and then be reminded of that when trying to express how you feel through something as simple as a card is painful and something we should no longer accept. Inclusivity should be rewarded and supported. We shouldn't settle for less, so let's celebrate the card makers who are already representing all people in their designs.
I need your help though! What do inclusive greeting cards mean to you? Which are your favourite? How can they be improved to be more representative? Do you know of cards I should feature? Let me know all your greeting card thoughts through the contact form or email hello@inclusive.cards.